Trigger.dev raises $3M
We're thrilled to announce today that Trigger.dev, the open source background jobs framework, has raised a $3M seed round.
We're growing fast
Our open source repo has just passed 4,000 stars on GitHub with many active contributors and a thriving Discord community.
Trigger.dev is already orchestrating the background jobs of many fast growing companies, and this week we partnered with Supabase to launch our Supabase Integration to help unlock powerful jobs triggered from changes in your database.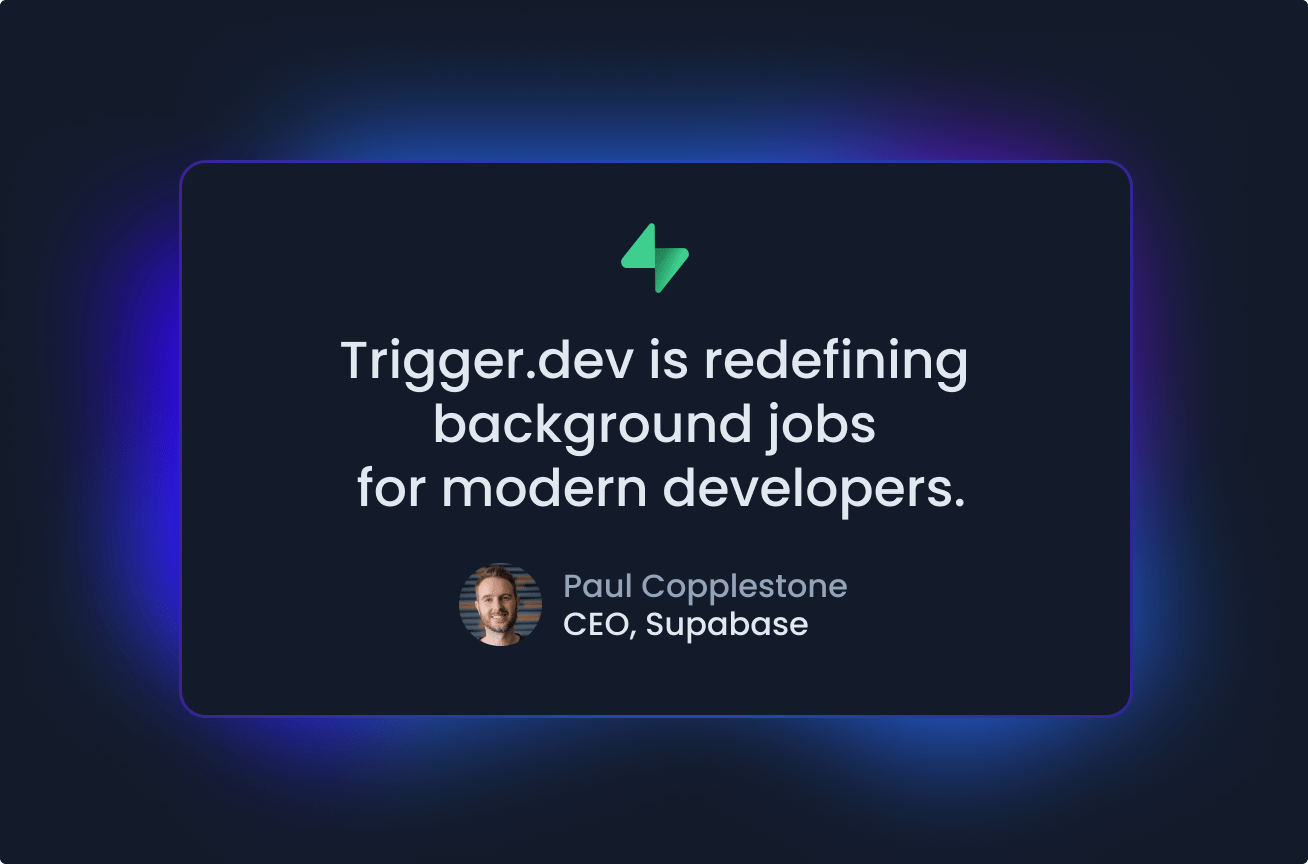 Our investors
To fuel the next phase of product development and growth, we partnered with Y Combinator who have backed globally renowned companies like Stripe, Airbnb, Reddit, Dropbox and many others.
For our seed round, we intentionally focused on securing funding from founders and operators deeply rooted in the developer tool sector, who are associated with some of the tech industry's most rapidly growing companies.
Paul Copplestone & Ant Wilson – founders of Supabase
Thomas Mann – founder of Raycast
Moataz Soliman – founder of Instabug
Arash Ferdowsi – founder of Dropbox
Andrew Miklas – founder of PagerDuty
As well as from many prominent investors, some of whom include:
Yuri Sagalov – Wayfinder Ventures
Chris Golda
Liquid2
Rebel Fund
Pioneer Fund
Orange Collective
You can see the full list of investors here.
What comes next?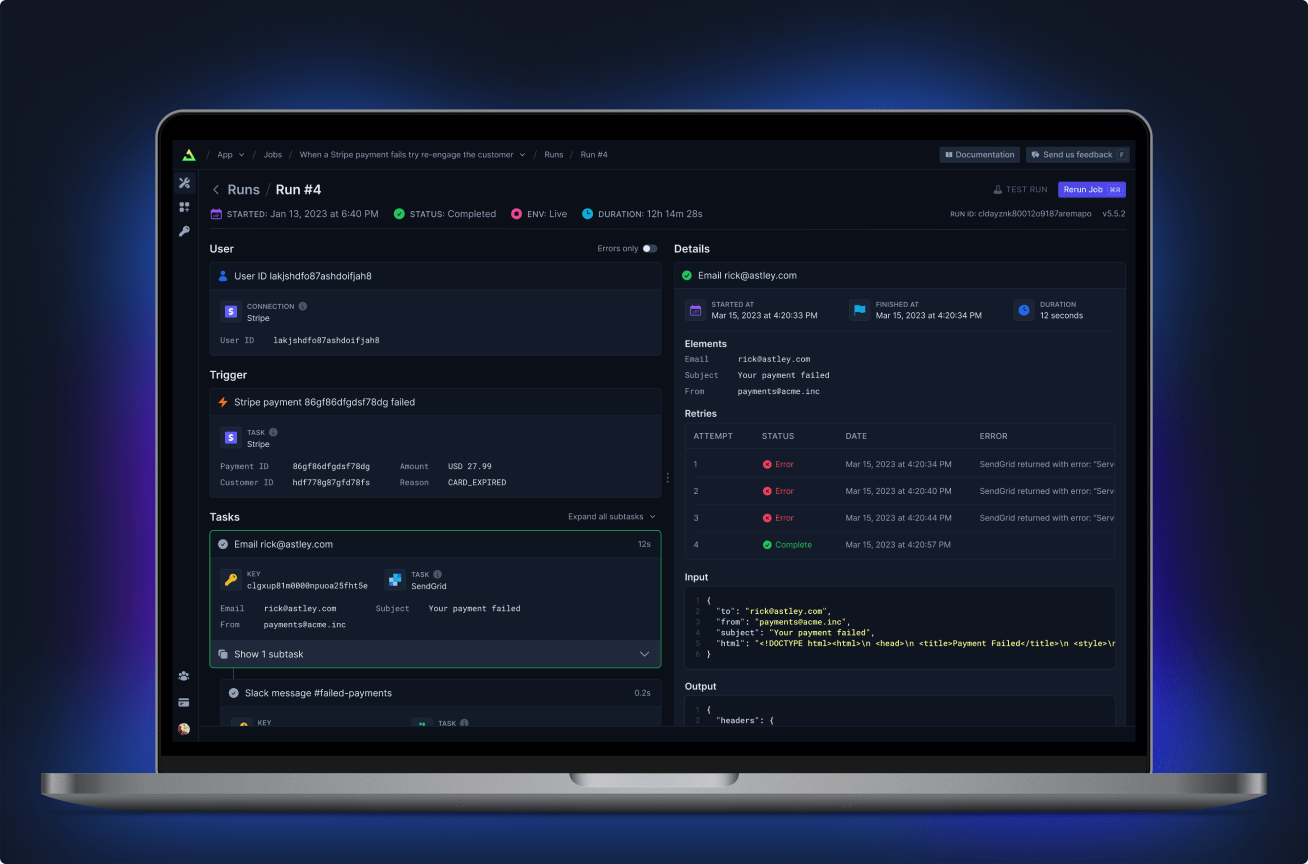 In our initial announcement on Hacker News, we positioned ourselves as the "open source Zapier alternative." This, however, was only a small part of the vision for Trigger.dev.
Modern web frameworks (like Next.js) have made building complex web apps far easier. But creating background jobs still requires experienced developers, a lot of time, and separate heavy infrastructure.
This presented an opportunity. Someone needed to build a framework to make background jobs easy to create without infrastructure. It needed to be developer-first, so jobs could be written in your codebase. And it had to have an exceptional developer experience.
This is why we built Trigger.dev. Our mission is to become the background jobs framework for the modern developer.
Over the next few months we will double down on this vision by building out platform features and integrations to increase the ways you can automate tasks for your business:
Integration Kit – Official Trigger.dev integrations or build your own
Self-hosting – Host the platform yourself
Cloud – Just write code, no deployment required
Dashboard – View every Task in every Run
Serverless – Long-running Jobs on your serverless backend
React hooks – Easily update your UI with Job progress
Background tasks – Support for long-running background tasks
Streaming – Receive data from your Jobs in realtime
Long-running servers – Run Jobs on your long-running backend
Check out our vision for the full list.
Get started with Trigger.dev
---
All our investors in alphabetical order
8vdx, Arash Ferdowsi, Alan Rutledge, Christopher Golda, Danny Sheridan, David Fowler, Edrizio De La Cruz, Eli Brown, Functional Capital: Andrew Miklas, Gal Kleinman, Kenny Johnston, Paul Copplestone & Ant Wilson, LBS Investments: Benjamin Bryant, Laird Ventures: Jeff Henriod, Liquid 2 Ventures, Moataz Soliman, Nir Gazit, Orange Collective, Pioneer Fund, Rebel Fund, Thomas Mann, Twenty Two Ventures: Katey Caldwell, Ventures Together, Wayfinder Ventures: Yuri Sagalov, Y Combinator, Zebra Good Pte: Sarup Banskota.